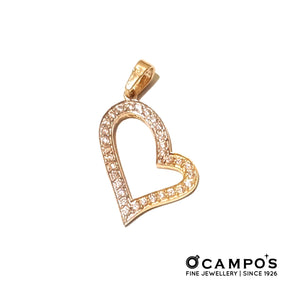 {"id":7013338382495,"title":"Lucy Heart Pendant","handle":"lucy-heart-pendant","description":"\u003cstyle type=\"text\/css\" data-mce-fragment=\"1\"\u003e\u003c!--\ntd {border: 1px solid #ccc;}br {mso-data-placement:same-cell;}\n--\u003e\u003c\/style\u003e\n\u003cp\u003e\u003cspan data-sheets-value=\"{\u0026quot;1\u0026quot;:2,\u0026quot;2\u0026quot;:\u0026quot;14K Two-tone \\n 1.2Grams\\n Cubic Zirconia Stones\\n Authentic Gold\\n Pawnable \\n Perfect for Gift \\n Visit any Ocampo's Fine Jewellery for lifetime cleaning service.\u0026quot;}\" data-sheets-userformat='{\"2\":6719,\"3\":{\"1\":0},\"4\":[null,2,16777215],\"5\":{\"1\":[{\"1\":2,\"2\":0,\"5\":[null,2,0]},{\"1\":0,\"2\":0,\"3\":3},{\"1\":1,\"2\":0,\"4\":1}]},\"6\":{\"1\":[{\"1\":2,\"2\":0,\"5\":[null,2,0]},{\"1\":0,\"2\":0,\"3\":3},{\"1\":1,\"2\":0,\"4\":1}]},\"7\":{\"1\":[{\"1\":2,\"2\":0,\"5\":[null,2,0]},{\"1\":0,\"2\":0,\"3\":3},{\"1\":1,\"2\":0,\"4\":1}]},\"8\":{\"1\":[{\"1\":2,\"2\":0,\"5\":[null,2,0]},{\"1\":0,\"2\":0,\"3\":3},{\"1\":1,\"2\":0,\"4\":1}]},\"12\":0,\"14\":[null,2,0],\"15\":\"Arial, sans-serif\"}' data-mce-fragment=\"1\"\u003eA statement skewed heart shaped crystal studded pendant.\u003c\/span\u003e\u003c\/p\u003e\n\u003cp\u003e\u003cspan data-sheets-value=\"{\u0026quot;1\u0026quot;:2,\u0026quot;2\u0026quot;:\u0026quot;14K Two-tone \\n 1.2Grams\\n Cubic Zirconia Stones\\n Authentic Gold\\n Pawnable \\n Perfect for Gift \\n Visit any Ocampo's Fine Jewellery for lifetime cleaning service.\u0026quot;}\" data-sheets-userformat='{\"2\":6719,\"3\":{\"1\":0},\"4\":[null,2,16777215],\"5\":{\"1\":[{\"1\":2,\"2\":0,\"5\":[null,2,0]},{\"1\":0,\"2\":0,\"3\":3},{\"1\":1,\"2\":0,\"4\":1}]},\"6\":{\"1\":[{\"1\":2,\"2\":0,\"5\":[null,2,0]},{\"1\":0,\"2\":0,\"3\":3},{\"1\":1,\"2\":0,\"4\":1}]},\"7\":{\"1\":[{\"1\":2,\"2\":0,\"5\":[null,2,0]},{\"1\":0,\"2\":0,\"3\":3},{\"1\":1,\"2\":0,\"4\":1}]},\"8\":{\"1\":[{\"1\":2,\"2\":0,\"5\":[null,2,0]},{\"1\":0,\"2\":0,\"3\":3},{\"1\":1,\"2\":0,\"4\":1}]},\"12\":0,\"14\":[null,2,0],\"15\":\"Arial, sans-serif\"}' data-mce-fragment=\"1\"\u003e14K Two-tone \u003cbr data-mce-fragment=\"1\"\u003e 1.2Grams\u003cbr data-mce-fragment=\"1\"\u003e Cubic Zirconia Stones\u003c\/span\u003e\u003c\/p\u003e\n\u003cp\u003e\u003cspan data-sheets-value=\"{\u0026quot;1\u0026quot;:2,\u0026quot;2\u0026quot;:\u0026quot;14K Two-tone \\n 1.2Grams\\n Cubic Zirconia Stones\\n Authentic Gold\\n Pawnable \\n Perfect for Gift \\n Visit any Ocampo's Fine Jewellery for lifetime cleaning service.\u0026quot;}\" data-sheets-userformat='{\"2\":6719,\"3\":{\"1\":0},\"4\":[null,2,16777215],\"5\":{\"1\":[{\"1\":2,\"2\":0,\"5\":[null,2,0]},{\"1\":0,\"2\":0,\"3\":3},{\"1\":1,\"2\":0,\"4\":1}]},\"6\":{\"1\":[{\"1\":2,\"2\":0,\"5\":[null,2,0]},{\"1\":0,\"2\":0,\"3\":3},{\"1\":1,\"2\":0,\"4\":1}]},\"7\":{\"1\":[{\"1\":2,\"2\":0,\"5\":[null,2,0]},{\"1\":0,\"2\":0,\"3\":3},{\"1\":1,\"2\":0,\"4\":1}]},\"8\":{\"1\":[{\"1\":2,\"2\":0,\"5\":[null,2,0]},{\"1\":0,\"2\":0,\"3\":3},{\"1\":1,\"2\":0,\"4\":1}]},\"12\":0,\"14\":[null,2,0],\"15\":\"Arial, sans-serif\"}' data-mce-fragment=\"1\"\u003e\u003cbr data-mce-fragment=\"1\"\u003e Visit any Ocampo's Fine Jewellery for lifetime cleaning service.\u003c\/span\u003e\u003c\/p\u003e","published_at":"2023-03-16T16:32:10+08:00","created_at":"2021-08-16T15:06:48+08:00","vendor":"Ocampos Fine Jewellery","type":"Pendants","tags":["14k","2-TONE","pendant"],"price":874800,"price_min":874800,"price_max":874800,"available":true,"price_varies":false,"compare_at_price":874800,"compare_at_price_min":874800,"compare_at_price_max":874800,"compare_at_price_varies":false,"variants":[{"id":40812381831327,"title":"Default Title","option1":"Default Title","option2":null,"option3":null,"sku":"LT792","requires_shipping":true,"taxable":true,"featured_image":null,"available":true,"name":"Lucy Heart Pendant","public_title":null,"options":["Default Title"],"price":874800,"weight":1,"compare_at_price":874800,"inventory_management":"shopify","barcode":"LT792"}],"images":["\/\/ocamposfinejewellery.com\/cdn\/shop\/products\/LT792.jpg?v=1629097610"],"featured_image":"\/\/ocamposfinejewellery.com\/cdn\/shop\/products\/LT792.jpg?v=1629097610","options":["Title"],"media":[{"alt":"Lucy 14k Two Tone Heart Pendant with Zirconia Stone | Ocampo's Fine Jewellery","id":22821609701535,"position":1,"preview_image":{"aspect_ratio":1.0,"height":2048,"width":2048,"src":"\/\/ocamposfinejewellery.com\/cdn\/shop\/products\/LT792.jpg?v=1629097610"},"aspect_ratio":1.0,"height":2048,"media_type":"image","src":"\/\/ocamposfinejewellery.com\/cdn\/shop\/products\/LT792.jpg?v=1629097610","width":2048}],"content":"\u003cstyle type=\"text\/css\" data-mce-fragment=\"1\"\u003e\u003c!--\ntd {border: 1px solid #ccc;}br {mso-data-placement:same-cell;}\n--\u003e\u003c\/style\u003e\n\u003cp\u003e\u003cspan data-sheets-value=\"{\u0026quot;1\u0026quot;:2,\u0026quot;2\u0026quot;:\u0026quot;14K Two-tone \\n 1.2Grams\\n Cubic Zirconia Stones\\n Authentic Gold\\n Pawnable \\n Perfect for Gift \\n Visit any Ocampo's Fine Jewellery for lifetime cleaning service.\u0026quot;}\" data-sheets-userformat='{\"2\":6719,\"3\":{\"1\":0},\"4\":[null,2,16777215],\"5\":{\"1\":[{\"1\":2,\"2\":0,\"5\":[null,2,0]},{\"1\":0,\"2\":0,\"3\":3},{\"1\":1,\"2\":0,\"4\":1}]},\"6\":{\"1\":[{\"1\":2,\"2\":0,\"5\":[null,2,0]},{\"1\":0,\"2\":0,\"3\":3},{\"1\":1,\"2\":0,\"4\":1}]},\"7\":{\"1\":[{\"1\":2,\"2\":0,\"5\":[null,2,0]},{\"1\":0,\"2\":0,\"3\":3},{\"1\":1,\"2\":0,\"4\":1}]},\"8\":{\"1\":[{\"1\":2,\"2\":0,\"5\":[null,2,0]},{\"1\":0,\"2\":0,\"3\":3},{\"1\":1,\"2\":0,\"4\":1}]},\"12\":0,\"14\":[null,2,0],\"15\":\"Arial, sans-serif\"}' data-mce-fragment=\"1\"\u003eA statement skewed heart shaped crystal studded pendant.\u003c\/span\u003e\u003c\/p\u003e\n\u003cp\u003e\u003cspan data-sheets-value=\"{\u0026quot;1\u0026quot;:2,\u0026quot;2\u0026quot;:\u0026quot;14K Two-tone \\n 1.2Grams\\n Cubic Zirconia Stones\\n Authentic Gold\\n Pawnable \\n Perfect for Gift \\n Visit any Ocampo's Fine Jewellery for lifetime cleaning service.\u0026quot;}\" data-sheets-userformat='{\"2\":6719,\"3\":{\"1\":0},\"4\":[null,2,16777215],\"5\":{\"1\":[{\"1\":2,\"2\":0,\"5\":[null,2,0]},{\"1\":0,\"2\":0,\"3\":3},{\"1\":1,\"2\":0,\"4\":1}]},\"6\":{\"1\":[{\"1\":2,\"2\":0,\"5\":[null,2,0]},{\"1\":0,\"2\":0,\"3\":3},{\"1\":1,\"2\":0,\"4\":1}]},\"7\":{\"1\":[{\"1\":2,\"2\":0,\"5\":[null,2,0]},{\"1\":0,\"2\":0,\"3\":3},{\"1\":1,\"2\":0,\"4\":1}]},\"8\":{\"1\":[{\"1\":2,\"2\":0,\"5\":[null,2,0]},{\"1\":0,\"2\":0,\"3\":3},{\"1\":1,\"2\":0,\"4\":1}]},\"12\":0,\"14\":[null,2,0],\"15\":\"Arial, sans-serif\"}' data-mce-fragment=\"1\"\u003e14K Two-tone \u003cbr data-mce-fragment=\"1\"\u003e 1.2Grams\u003cbr data-mce-fragment=\"1\"\u003e Cubic Zirconia Stones\u003c\/span\u003e\u003c\/p\u003e\n\u003cp\u003e\u003cspan data-sheets-value=\"{\u0026quot;1\u0026quot;:2,\u0026quot;2\u0026quot;:\u0026quot;14K Two-tone \\n 1.2Grams\\n Cubic Zirconia Stones\\n Authentic Gold\\n Pawnable \\n Perfect for Gift \\n Visit any Ocampo's Fine Jewellery for lifetime cleaning service.\u0026quot;}\" data-sheets-userformat='{\"2\":6719,\"3\":{\"1\":0},\"4\":[null,2,16777215],\"5\":{\"1\":[{\"1\":2,\"2\":0,\"5\":[null,2,0]},{\"1\":0,\"2\":0,\"3\":3},{\"1\":1,\"2\":0,\"4\":1}]},\"6\":{\"1\":[{\"1\":2,\"2\":0,\"5\":[null,2,0]},{\"1\":0,\"2\":0,\"3\":3},{\"1\":1,\"2\":0,\"4\":1}]},\"7\":{\"1\":[{\"1\":2,\"2\":0,\"5\":[null,2,0]},{\"1\":0,\"2\":0,\"3\":3},{\"1\":1,\"2\":0,\"4\":1}]},\"8\":{\"1\":[{\"1\":2,\"2\":0,\"5\":[null,2,0]},{\"1\":0,\"2\":0,\"3\":3},{\"1\":1,\"2\":0,\"4\":1}]},\"12\":0,\"14\":[null,2,0],\"15\":\"Arial, sans-serif\"}' data-mce-fragment=\"1\"\u003e\u003cbr data-mce-fragment=\"1\"\u003e Visit any Ocampo's Fine Jewellery for lifetime cleaning service.\u003c\/span\u003e\u003c\/p\u003e"}
        
Lucy Heart Pendant
Sale price

₱8,748.00

Regular price

₱8,748.00
A statement skewed heart shaped crystal studded pendant.
14K Two-tone
1.2Grams
Cubic Zirconia Stones

Visit any Ocampo's Fine Jewellery for lifetime cleaning service.
Tax included.
Adding product to your cart
×
Share Lucy 14k Two Tone Heart Pendant with Zirconia Stone | Ocampo's Fine Jewellery
When your love shines even brighter, you
know you're ready to take it to a whole
new level. Find the perfect piece for that
life-changing "yes" moment.
TAKE THE NEXT STEP
Use left/right arrows to navigate the slideshow or swipe left/right if using a mobile device